Goryokaku Tower Tanabata Festival 2019 〔Ended〕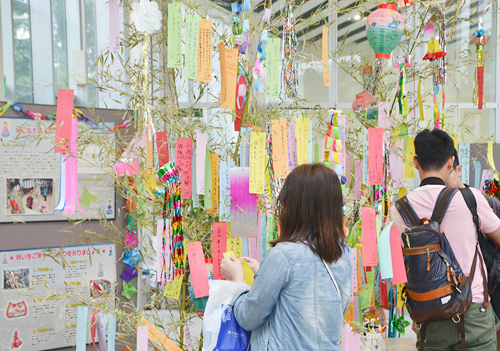 July 7th is the day of the Tanabata Festival.
It is customary to hang colorful pieces of paper written with wishes and decorations on bamboo branches (called tanzaku) to wish upon the stars.
The Tanabata Festival in Hakodate is also unique. On the night of Tanabata, children go from door to door to sing a song to receive candles and sweets. The rule is that when children sing a song, people must give sweets to each child. Tanabata is one of the events that children in Hakodate look forward to.
Tanzaku Wish Section is set up at the atrium on the first level.
Write down your wishes on tanzaku and put it under bamboo branches. Your wishes will certainly come true from the place closest to the stars (Goryokaku.)
Venue: 1F Atrium
Please stop by to get free candles.
Please come and pick up free candles from 4 p.m.
Sweets will be offered to children who sing a Tanabata song.
Date: Sunday, July 7, 2019
Time: 4 p.m. to 7 p.m.
Venue: 1F Entrance Hall Special Event Section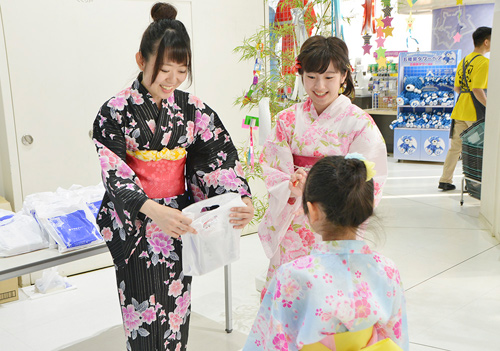 Gota-kun, the official mascot of the Goryokaku Tower, will be also waiting for you after 4 p.m.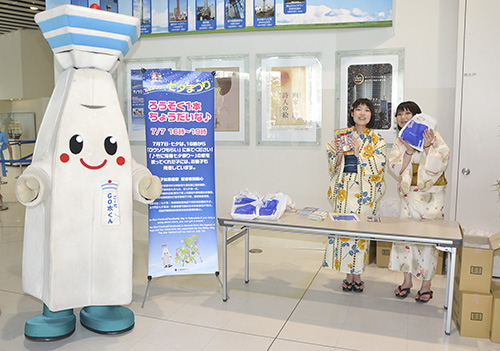 Tanabata Bamboo Decoration is set up at the 2F Observation Deck
The Star Festival (Tanabata) is derived from the legend of Vega and the Milky way.
The star festival will be held on July 7th on that day, we display bamboo grass with a strip of paper and ornaments to celebrate their reunion.
When we write a wish a wish to the strip of paper and display it, is said that a wish comes true.
Venue: 2F Observation Deck
Tanabata Festival Panel Exhibition
The Milky Way appears in the summer night sky. The Tanabata Festival was originated from the legend of two dazzling stars, Orihime and Hikoboshi, across the Milky Way.
The panel exhibition introduces the story and the origin of Tanabata Festival, as well as Hakodate's distinctive Tanagata custom.
Venue: 1F Atrium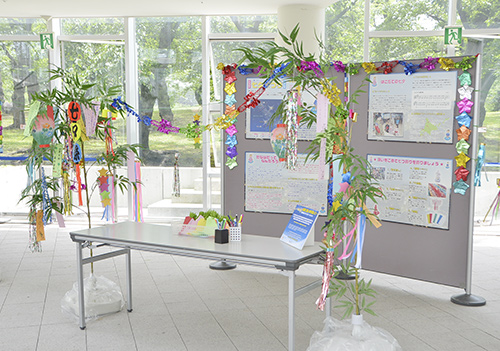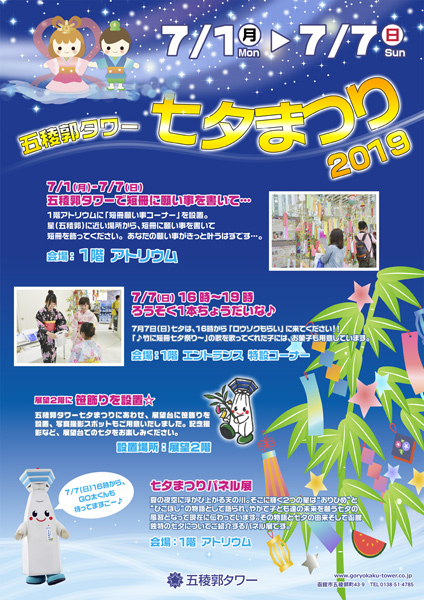 Dates Monday, July 1 to Sunday, July 7, 2019
Contact Information

Sales Div., Goryokaku Tower Corporation
Tel: 0138-51-4785