[2019-20] Notice of energy conservation during winter
Hokkaido Electric Power is asking for your cooperation in energy conservation on the website.
The website of Hokkaido Electric Power
---
In response, we have adopted an on-demand power consumption management system since 2008 to reduce electricity used by introducing LED lights for interior lighting to save electricity. Although we normally use 20 units to illuminate five sides of the pentagon-shaped tower body, we turned off 12 units for illuminating three northeastern sides during the energy conservation months again this winter.
Two southwestern sides, which are visible from Mount Hakodate, are illuminated using eight units to cooperate in energy-saving efforts while considering the night views from Mount Hakodate.
In addition, we also save energy by reducing the use of interior lighting and turning down the air conditioning system (26℃). Thank you for your understanding and cooperation.
Our energy conservation months (winter): Saturday, December 1, 2019, to Sunday, March 31, 2020.
Our energy conservation months (summer): Monday, July 1 to Monday, September 30, 2019.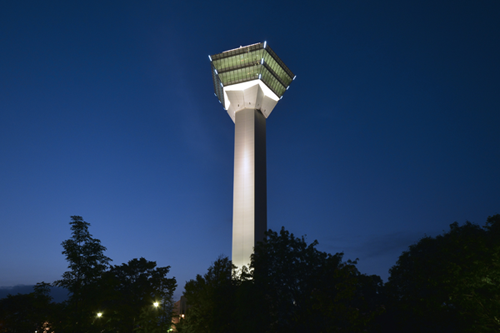 *Shown is the Goryokaku Tower on the northeastern side when 12 units on three sides out of 20 units on five sides are turned off.
● For inquiries, please contact below:
General Affairs Dept., Goryokaku Tower Corporation   Tel: 0138-51-4785