About Hakodate Free Wi-Fi
Goryokaku Tower offers free Wi-Fi as part of the Hakodate Free Wi-Fi on the second and first levels of the observation deck and atrium.
Hakodate Free Wi-Fi is municipal wireless network provided by the city for the comfort and convenience of tourists. Free Wi-Fi is available at major tourist attractions within the city besides the Goryokaku Tower.
Area Sign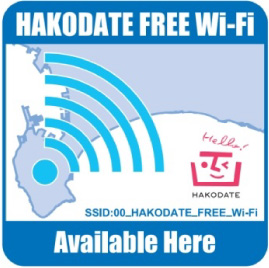 Look for this Area Sign.
■ Free Wi-Fi spots within the Goryokaku Tower facilities:
2F Observation Deck, 1F Observation Deck, Atrium
How to connect
Please follow the instructions below to access the Wi-Fi network:
Step 1

Open the Settings and tap "Wi-Fi."
Step 2

Tap the dedicated SSID "00_HAKODATE_FREE_Wi-Fi" to see if your mobile phone is connected to Wi-Fi.
Step 3

Once you launch your browser, you are redirected to the portal site (a login page for Hakodate Free Wi-Fi.)
Step 4

Select your language from the upper right corner of the screen (Japanese, English, Chinese (traditional or simplified), Korean, Thai)
Step 5

(1) Select your social media account from a list of social media (Facebook, Twitter, and Google) to register using your social media account.
Enter your ID and password on the registration page.
(2) Register with email confirmation. Please enter your email address that you can receive an email for interim registration. Click the link provided in the return email that you receive at the email address to complete your registration.
Step 6

Once registration is confirmed, you will see a message. You are now connected to the Internet.
For detailed instructions on how to connect the Hakodate Free Wi-Fi and available spots, please check the website of Hakodate City.