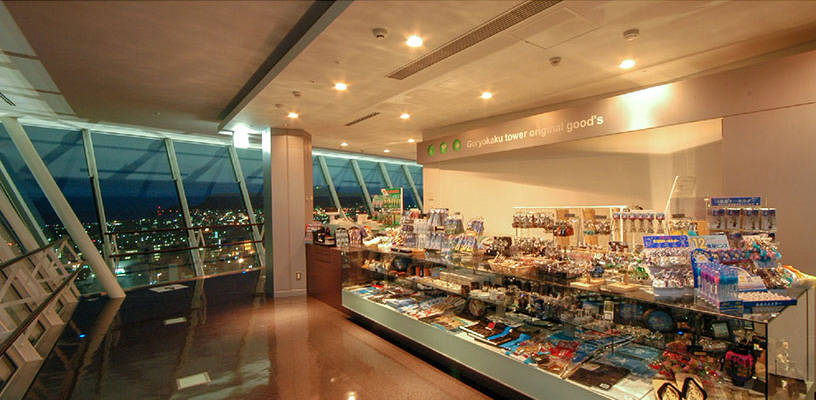 1F Observation Deck (86 meters above the ground)
Visitors can relax and enjoy the superb view of star-shaped Goryokaku on this floor.
The site also has an Observation Gift Shop offering original items and a cafe stand to enjoy shopping.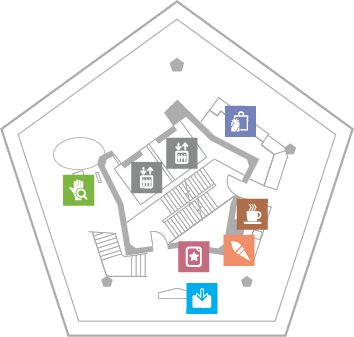 Visitor's route
See-Through Floor
Bastion forts around the world
Observation gift shop
Cafe
Soft-served ice cream
Computer Palm Reading
Elevator
Bastion forts around the world

The roots of Goryokaku can be traced to the sixteenth century during the Renaissance in Europe. Bastion forts, which were invented in response to the development of guns and cannons, were built across the world as European countries expanded overseas. In addition, at the end of the Edo era in Japan, the Tokugawa shogunate built Goryokaku in the open port of Hakodate to serve as a hub for foreign diplomacy with Western European nations. Here, the graphic panel and touch screen is used to introduce the forts and walled cities, which were built using the same technique as Goryokaku and still exist around the world today.
See-Through Floor

The See-Through Floor is made of clear hardened glass to look directly below. Stand on the See-Through Floor to experience walking in the sky 86 meters above the ground.

Observation Gift Shop

Observation Gift Shop offering original items that you can only find here awaits your visit.

Computer Palm Reading

A computerized palm-reader reads the left hand for men and the right hand for women. This computer palm reading is popular among bus tour conductors, tour conductors, and the staff of the Goryokaku Tower for its accuracy. It might resolve your problems just by paying 350 yen per play.
Cafe stand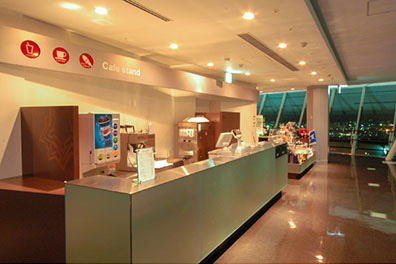 Enjoy the 360-degree panoramic view while enjoy coffee or soft-served ice cream. Why not take a break while taking in the views?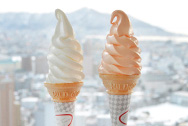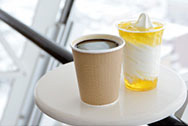 Recommended menu of the cafe stand
■ Soft-served ice cream:
Special Milk (Onuma Park Yamakawa Farm's Milk),
Hokkaido Melon, Melon Mix (Special Milk and Hokkaido Melon)
■ Crushed Jelly:
Coffee, Strawberry, Mango
■ Soft drink:
Hot coffee, Iced coffee
Pepsi Coke, Melon Soda, Oolong Tea, Orange Juice, etc.
Special menu for the observation deck and limited-time menu are also available.
Please use the elevator from the first level of the observation deck to exit the tower. (Elevator is not accessible from the second level of the observation deck.)
*Please feel free to ask our staff if you need assistance. We will take you to a desired floor by elevator.
*Please note that once you exit the observation deck, you cannot re-enter the observation deck.
Goryokaku Tower is a smoke-free facility.
Pets are not allowed. (Guide dogs, assistance dogs, and hearing assistance dogs are allowed.)