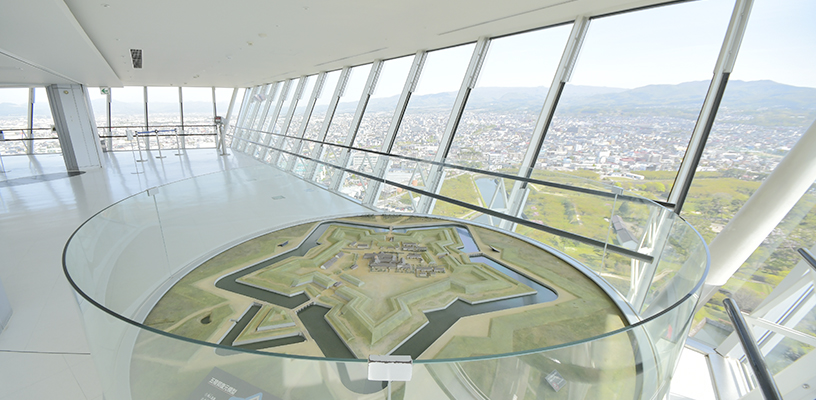 2F Observation Deck (90 meters above the ground)
Exhibition space: Goryokaku Historic Corridor
The observation deck offers spectacular views of the national historic site Goryokaku.
There is also an exhibition space called Goryokaku Historic Corridor where visitors can learn about the history of Goryokaku.
Visitor's route
Exhibition space: Goryokaku Historic Corridor
Reconstructed model of Goryokaku
Touchable model
Goryokaku Guide (Computer information search)
Bronze statue of Toshizo Hijikata
Elevator
Men's restroom
Women's restroom
Reconstructed model of Goryokaku (1/250)

The model is an accurate representation of Goryokaku when it was first built. You can compare the current and the previous looks.

Graphic exhibition Goryokaku Stories

A chronological table and graphic panels are used to introduce the history of Goryokaku, which began when Perry's fleet arrived, in a manner that is easy to understand.

Memorial Pole

The Memorial Pole with 16 dioramas presents the stormy history of Goryokaku and the people's drama.

Information search computer Goryokaku Guide

Operate a touch screen to search for information about Goryokaku, check FAQs, and try quizzes with three choices to have fun learning and researching. (Japanese only)

Touchable model

Even visitors with visual impairments can directly touch the beautiful star shape and unique design of Goryokaku.

Bronze seated statue of Toshizo Hijikata

Based on a well-known picture of Toshizo Hijikata wearing a frock coat and boots with a sword at the hip and sitting on a chair, sculptor Machiko Kodera spent two years in the making of this bronze statue.
About the bronze statue of Toshizo Hijikata
Goryokaku Historic Corridor brochure
We have brochures that describe the history of Goryokaku and sixteen dioramas inside the Goryokaku Historic Corridor. Please feel free to take one.
Please use the elevator from the first level of the observation deck to exit the tower. (Elevator is not accessible from the second level of the observation deck.)
*Please feel free to ask our staff if you need assistance. We will take you to a desired floor by elevator.
*Please note that once you exit the observation deck, you cannot re-enter the observation deck.
Goryokaku Tower is a smoke-free facility.
Pets are not allowed. (Guide dogs, assistance dogs, and hearing assistance dogs are allowed.)